All About Barrels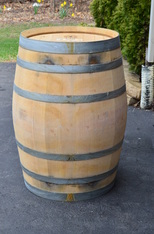 Established in 2012 as a wine barrel craft site, it was soon discovered the interest and need for quality used barrels for the Chicagoland area. We realized many people were seeking used wine barrels for their own craft ideas, rain barrels, furniture, or special occasion uses to weddings. Our barrels are perfect for the wine enthusiast as they normally come in 59 gallon barrels, with the inside toasted to approximately 1/8" thick with wonderful smelling red wine stain. This stained wood makes an appealing visual, for decor design and each barrel has it's each own unique patina.
Just expanded, see our line of Rustic Wedding accessories to go along with your barrels!
Located centrally in the Northwest suburbs of Chicago, we sell American Oak, whole red wine barrels for wine making, beer crafting, wood working, rain barrels, furniture making, displays and others.
Barrels can be cut to any size for barrel planters, fountains, ponds, cooler, etc. Also available are barrels staves, barrel heads, a metal bands as well. We reuse the entire barrel, so nothing is wasted.
We will deliver locally, please call us for a quote, or send us an email with your request. We also rent wine barrels for your special wedding, wine tastings events, or your special event, see wine barrel rental tab for more information, or visit my Etsy site for our favorite wine racks
www.barrelsandbarnwood.etsy.com
---

---
All About Barrels - Island Lake, IL 60042
Owner: Dan Iwans - Phone: 847 867 - 8376 Email: Dan@allaboutbarrels.com
www.barrelsandbarnwood.etsy.com
Call for an appointment or simply complete the contact form