Beautiful Rustic wine racks made from Napa Valley wine barrels & from barns dating back to the 1800's. Reclaimed wine racks that utilizes all parts of the barrels & barn wood wine racks utilizing everything from the gorgeous tin roofs to the 100+ year old siding and beams!

Visit our Etsy site for a complete list of crafts and additional pictures.
www.barrelsandbarnwood.etsy.com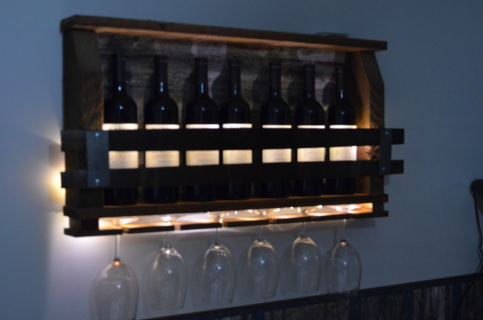 Lighted Barn Wood Wine Rack
This tin is gorgeous!! and now you can get this with LED lights! Very cool look, great in lower light areas. LED lights showcases your wine and glass's. LED lights are battery operated with 3-AAA batteries included, which should last for many many hours.

A unique 7-8 wine bottle and 6 - glass holder wine rack. Back is rusted tin from barn roofs, beautiful patina that varies with each rack. Sides are from 100+ year old barns, and front grill is made from two California wine staves, attached to the original galvanized barrel rings. Beautiful combination of history to add to your wall.

Wine Rack is 35" long, 18" tall and stands out about 6 1/2" from wall.

Price includes shipping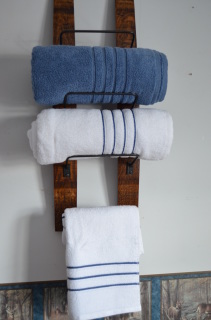 Wine Barrel Towel Rack
Wine Barrel Towel Rack, beautiful way to display your towels in a unique rustic way. Approximately 29" long and cradle are 8" to perfectly hold your towels. Rack sits closer to the wall and holds up to 4 good size towels or 3 towels and a hand towel on the bottom.

Beautiful wood staves, stained a nice English Chestnut. Everything is carefully crafted from choosing the barrel to welding each cradle, the cradles are painted a nice textured black.

Approx: 29" high x 10"wide, comes with hooks on back and wall anchors to hang.

Price includes shipping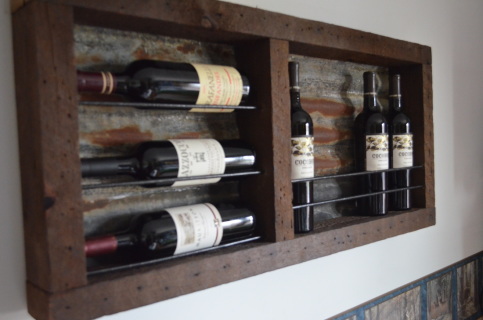 8 Bottle Wine Stave Wine Rack
Brand new design - This Tin is gorgeous! A unique rustic 8 bottle wine rack. Lay down 3 of your best on the left side and keep your additional 5 bottles standing up on the right. Back is slightly rusted tin from barn roofs, beautiful patina that varies with each rack. Sides are from 100+ year old midwest barns, Beautiful combination to showcase your wines. Bottles rest on 1/4" steel/painted with a black textured paint. Bottles on right fit snug and will securely stay.

Wine Rack is approx 38" long, 18" tall, includes 3 hooks on back, spaced 16" apart and screws to mount to wall.

Price includes shipping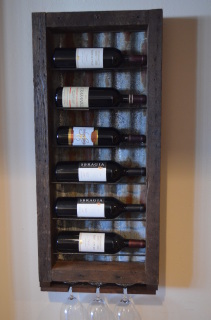 6 Bottle reclaimed wine rack
This tin is gorgeous!!

A unique 6 wine bottle and 3 - glass holder wine rack. Back is slightly rusted tin from barn roofs, beautiful patina that varies with each rack. Sides are from 100+ year old midwest barns, Beautiful combination to showcase your wines. Bottles rest on 1/4" steel/painted with a black textured paint.

Wine Rack is 37 1/2" long, 16 1/2" wide and stands out about 4" from wall.

Price includes shipping

Recent Review:

"I received the wine rack last week. It is everything I hoped for in a rustic wine rack. I love it, thank you! "

"Love love the look! Did not hang yet being that it's a gift and waiting to give to my husband for an anniversary present! Shipment very quick and packaged great! Thank you! "

"Love the rustic look and quality of my wine rack. Thanks for the quick shipping "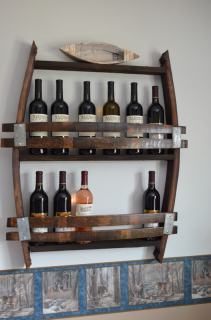 Wine Barrel Wine Rack
New Design! - Wine Barrel wine rack - exact dimensions of a full barrel


This is a unique 12-14 wine bottle wine rack. The outline with the sides and the top are the exact dimensions of a full size barrel, 36 1/2" tall by about 28" wide. Sides are staves from the Napa wine barrel, and barn wood shelfs to hold your wine. Front grill is made from two California wine stave's, attached to the original galvanized barrel rings. Beautiful rustic wine rack piece to add to your wall .

Comes with all hardware needed, hooks spaced 16" apart in back and includes screws.


Price includes shipping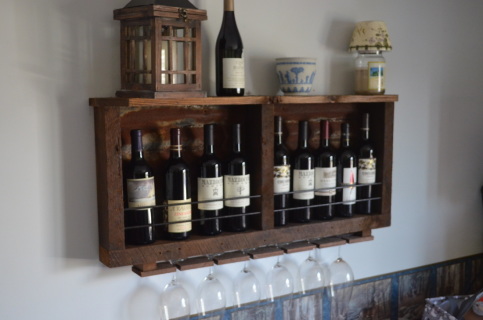 10 Bottle Wine Stave Wine Rack
This tin & barn wood is gorgeous!!

A unique up to 10 bottle wine bottle and 6 - glass holder, wine rack. Back is slightly rusted tin from barn roofs, beautiful patina that varies with each rack. Sides are from 100+ year old mid west barns, Beautiful combination to showcase your wines. 6" shelf on top to hold all your favorite pieces, or more wine :)

1/4 steel across front helps to showcase your wine, while keeping your bottles safe

Wine Rack is 39" wide, 19" tall and stands out about 4" from wall.


Price includes shipping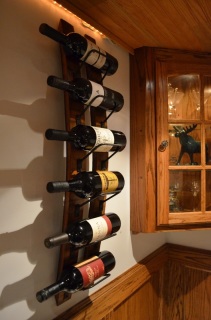 6 Bottle Wine Stave Wine Rack
Wall Wine Rack uses reclaimed oak staves from California wine barrels, parallel
racks with six finished iron cradles, each having it's own unique patina. The
aged oak finish, and wine-stained back make for a distinct piece that holds 6
bottles. (No assembly required-hardware for hanging already attached)
.

Approx: 34 1/2" - 36 1/2" " high x 8.00"wide x 7" deep. Wine Staves
width will vary between 2 - 3 1/2"

Price includes shipping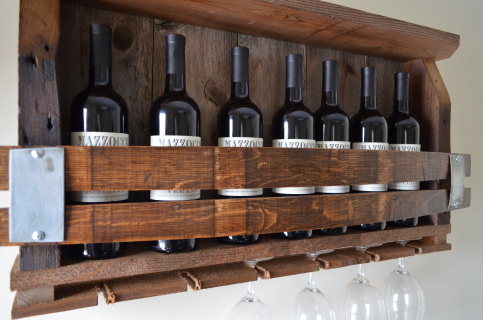 Reclaimed Barn Wood/Wine Stave wine rack
This is a unique 7-8 wine bottle and 6 - glass holder wine rack. Back made of reclaimed barn wood, nice weathered barn wood either natural gray or a light grey stained - your choice. Front grill is made from two California wine staves, attached to the original galvanized barrel rings. Beautiful rustic piece to add to your wall . Sides are Early American stained barnwood Wine Rack is 35" long, 18" tall and stands out about 6 1/2" from wall.

Price includes shipping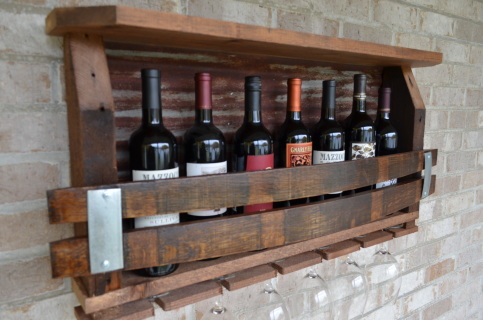 Wine Barrel wine rack with reclaimed barn wood and tin
Love this tin and coloring!

Wine Rack made from Reclaimed barn wood dating back to the 1800's! The rusty tin on the back is from the barn's roof, beautiful patina and unique. In front are two California barrel staves and their barrel banding. Put this all together you have a very unique wine rack.

Hold up to 7 bottles of your favorite wine.

Added on the bottom, you can hang up to 6 of your wine glasses, and the large 5" shelf on top is perfect for your favorite accessory, or more wine!

Specs:

Length = approx 36" wide with the staves
Height = 18" tall with the wine glass holder.
Depth - stands out about 6 1/2" from the wall
Mounting - Includes two mounted hooks on back, 16" apart, and comes with two screws, so no additional hardware is needed. Very easy to hang.

Price includes shipping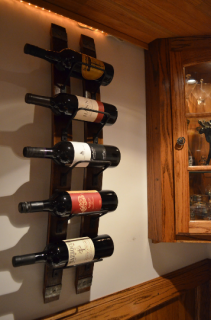 5 bottle Rustic Wine rack with Steel Bands
This unique wine rack uses recalaimed oak staves from California wine barrels, with each stave having it's own unique pantina, parallel racks with 5 hand made finished iron cradles. Each rustic wine rack starts from the full wine barrel, that literally just a few months earlier held some of the best Cabernets, Zinfandels and Pinots. Each stave is lightly sanded, stained a nice dark English Chestnut, and a clear satin finished applied, then each handcrafted steel cradle is welded and painted a nice textured black finish. I also include pieces of the original steel hoop that held the barrels together on both top and bottom.

What you see is what you will recieve, each having it's own distinct characteristics, I guarantee you will enjoy or will refund 100%. Please feel free to contact me with any questions.

(No assembly required-hardware for hanging already attached) .

Approx: 34 1/2" - 37 1/2" " high x 8.00"wide x 7" deep. Wine Staves width will vary between 2 1/2 - 3 1/2"

Price includes shipping